Simulation
Analyses and optimisation of cargo handling processes and freight traffic flows
The increasing complexity of logistical systems along the supply chains requires innovative approaches to optimise transport flows and intermodality, as well as improve efficiency and environmental sustainability.
ISL has extensive expertise in applying simulation to develop optimal solutions within the maritime sector, both on water and in terminals as well as hinterlands of seaports.

Fields of activity
In numerous industrial and research projects, various problems have been successfully solved with the help of simulation techniques. Below you can find some concrete examples:
How do bottlenecks in the infrastructure impact the traffic flow in inland navigation? What cost-effective measures can be taken to optimise the utilisation of existing capacities?
How can the route for transporting hydrogen by truck be optimised, particularly regarding the optimal use of existing refueling stations?
What is the impact of export and import road transports on pollutant levels in the immediate vicinity of port regions?
What emission reductions can be achieved in maritime shipping through the introduction of shore power?

Applications
ISL uses its extensive knowledge in maritime logistics to model the transport of goods and accompanying data flows, aiming for a high degree of realism.
We employ a variety of methods, including our own and commercial simulation tools, as well as data from different sources such as our own and public statistics. In addition, we draw on expert surveys, scientific research and our experience from previous projects.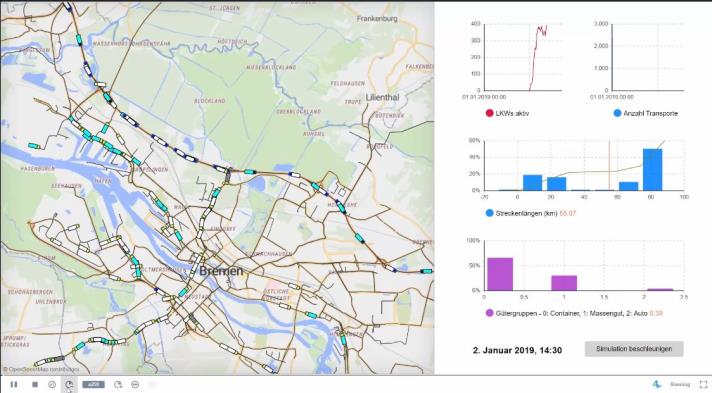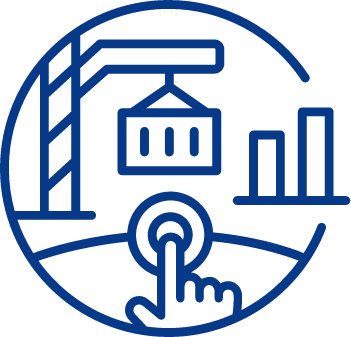 Further information
Current projects in this competence area can be found on our project page.