The global cruise industry: back to full business in 2024?
The COVID-19 pandemic has devastated the cruise industry – both in the tourism sector and in shipbuilding. The branch reported billion-dollar losses. While 2021 cruise passenger numbers were only about 16 % of what they were last year before the Corona pandemic, they were back up to nearly 70 % last year. 
The Cruise Lines International Association (CLIA) reported 20.4 mio. passengers in 2022, more than 4 times the number of 2020 at the height of the pandemic (4.8 mio. passengers), but still 31 % lower than the pre-pandemic levels of 2019.
Experts initially viewed 2022 as a transitional year, but it is becoming increasingly clear that the cruise industry will continue to face problems in the near future, caused not only by Russia's invasion of Ukraine, but also by the sluggish recovery of the global economy after overcoming the corona epidemic. Moreover, according to epidemic research, the next wave of COVID diseases is imminent. For this reason, expectations for the next few years are only cautiously positive. This is also reflected in the fact that only one new passenger ship was ordered in the first half of the current year, a result that has never been reported in the past. Nevertheless, CLIA expects 31.5 mio. cruise passengers this year, and a further 14.3 % increase in passenger numbers in 2024.
In addition, the current evaluations show that the volume of orders fell by 27.8 % last year, which means that the new orders cannot compensate for the completions and the order book is shrinking. This decline affects not only the cruise fleet, but also (to a lesser extent) all other types of passenger ships.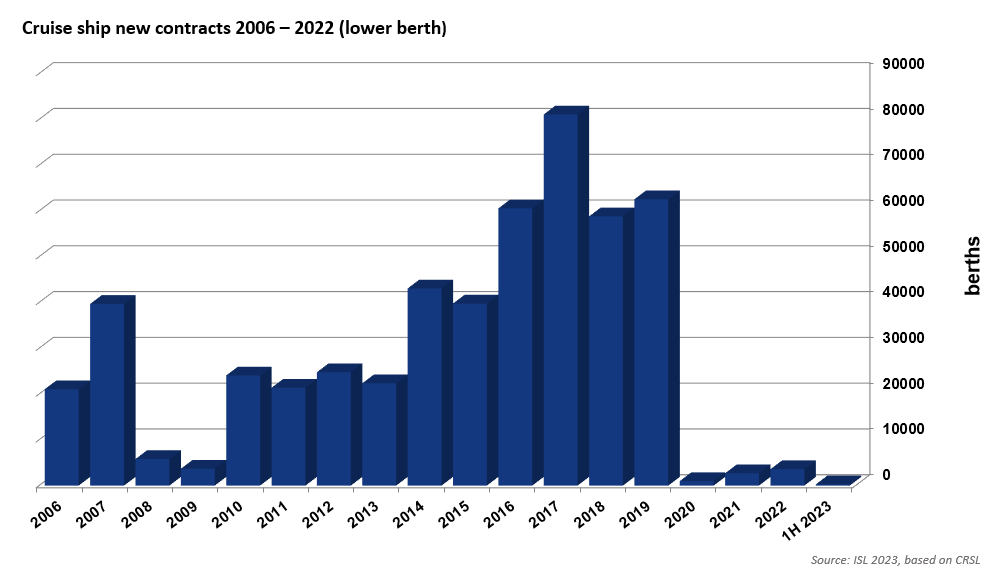 After only 6 new orders in the first half of this year, the order volume of passenger ships comprises 222 units with a total tonnage of 7.2 mio. gt. 81 % of the tonnage are cruise ships, about 18.5 % can be allocated to the Ro/Ro Passenger segment, and 0.5 % are other passenger ships, which, however, represent a good third of the order backlog in terms of numbers. Only 20 units in the order book that are not cruise ships are larger than 40,000 GT.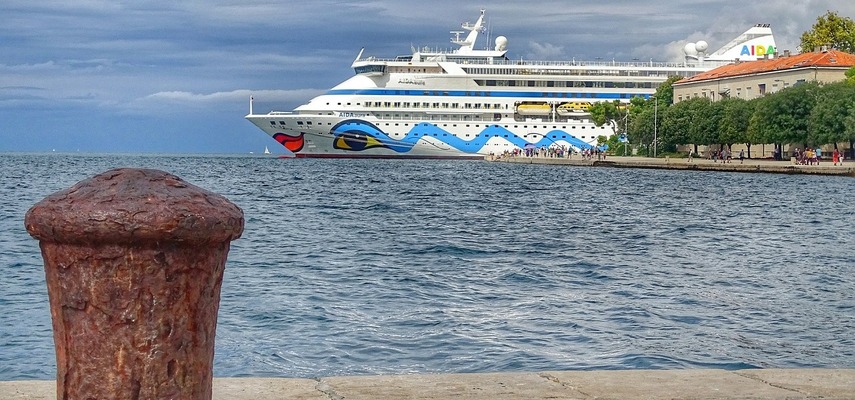 Further Information
ISL Webshop: order current SSMR issue
The ISL SSMR 2023-6 highlights various developments around passenger shipping with a focus on cruise shipping and port development in this segment. The issue is available for download via our webshop.
The special feature topics of each SSMR issue are:
Issue 1: World Merchant Fleet
Issue 2: Tanker Market
Issue 3: Bulk Carrier Market
Issue 4: Container Shipping
Issue 5: General Cargo and Container Shipping
Issue 6: Passenger and Cruise Shipping
Issue 7: Shipbuilding and Shipbuilders
Issue 8: Major Shipping Nations
Issue 9: World Seaborne Trade and World Port Traffic