Container traffic declines in North America and Northern Europe
During the first four months of 2023, the global container traffic devel-opment was disappointing. In North America and Northern Europe, con-tainer traffic contracted by more than 10% compared to the same period in 2022. The regions with the highest growth rates – West Asia, South-east Asia and China – only achieved modest growth of 1.0% to 1.4%. Overall, global container port traffic decreased by 3.5%.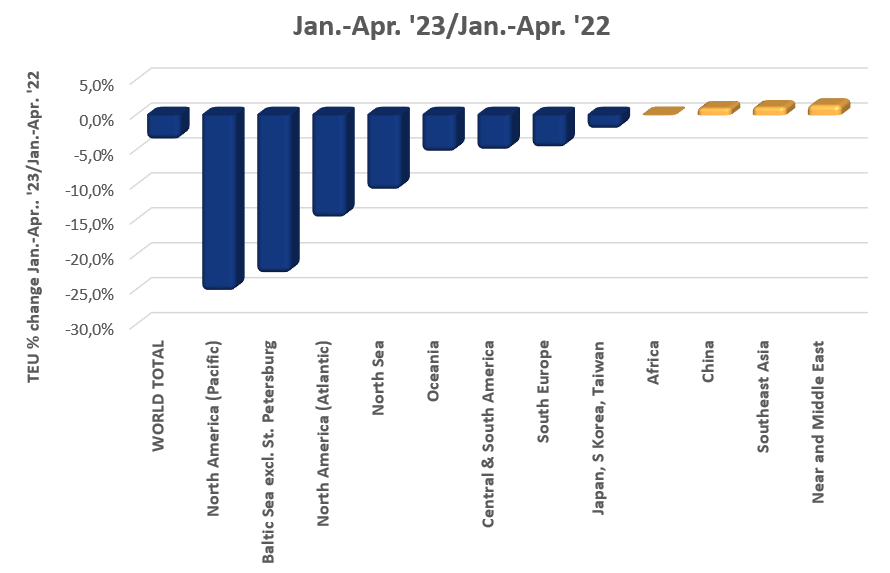 While the collapse of the Russian market largely explains traffic decrease in Northern Europe, the decline of traffic on the North American West Coast by a quarter can only be indirectly related to the war in Ukraine. In addition to rising energy prices and related inflation, labour walk-outs in the ports, as well as weak consumption and investment activity, contrib-uted to this drop.
As no region in the world currently shows a clear upward dynamic, it appears that the downward trend is likely to continue.
Further details on the development of the world's most important con-tainer ports can be found in the current issue of our Monthly Container Port Monitor (MCPM).